How do you write a book review of a book that is unsure of how to define it's primary concept? Such is the conundrum of It by Craig Groeschel, a book ostensibly about church leadership. While Craig never defines (and admits being unable to) It, many of us know exactly what he's talking about. It's the sense that God is up to something here in a way that is not typical. It's a spiritual attraction. A buzz. But it's deeper than that, too. It's Spirit-empowered joie de vivre, if you define joy and life as the spiritual fruit and eternal life, respectively. It's the activity of shalom—that sense that all is right in this place.
Some churches have It and some churches don't. Some churches used to have It but lost It, and now they want It back. Other churches have never had It and want nothing to do It. It is mysterious. It is dynamic. It is spiritual. It's not something that can be observed, but you know It when you see It. It is a feel-thing.
Because this It is so hard to define, Groeschel spends much of his book talking around It. The second part of the book, which is the bulk of It, lays out the seven things that contribute to It: Vision, Divine Focus, Unmistakable Camaraderie, Innovative Minds, Willingness to Fall Short, Hearts Focused Outward, and Kingdom-Mindedness. These seven attributes of a church create an atmosphere of Spirit-empowered joie de vivre, that sense of the deep joy of eternal, resurrection life where It is practically painted on the walls.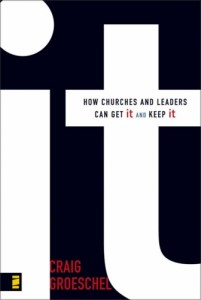 The most poignant chapter, for me personally, was Unmistakable Camaraderie. Churches that have It like each other. They get along. They have fun. Craig tells stories of practical jokes played at the office, and he even offers a few digs at some of his friends on staff. While this type of work atmosphere doesn't appeal to everyone, it certainly appeals to me. Ministry is supposed to be fun. Look at what we get to do! Sure, it's hard sometimes, and you're often walking with people through the darkest times of their life, but there is something joyous about this calling that you wouldn't expect to find in commercial enterprises. It doesn't exist in churches with staff cultures where strife, isolation, and competition are the norm. It is the adventure of a team moving in the same direction, and having a good time along the way.
The most important chapter, however, is the penultimate: Do You Have It? Does It Have You? Craig begins with the story of how he lost It, how he got caught up in trying to be a good pastor and lost sight of the God who was his first love. Slowly and subtly, the passion drained out of his relationship with God. He found himself worshipping the Church rather than Jesus. It took him two years to kill his idolatry and get his passionate love back for his Savior. The challenge to pastors and leaders is this: If you want your church to have It, you must have It. It comes from God, and you have to return to your first love.
If I had to define It, I would do so relationally: It is God's happy and favorable response to our joyful, humble, passionate and faith-filled response to his gracious, loving initiation of a love-relationship through the cross and resurrection of Jesus. I know that's a mouthful, which is why the book is just called It. That's how I read It, anyway.
Have you seen It in your church? Have you seen a church or ministry lose It? Do you have It, or have you lost It? What must you do to get It back?