Love Wins by Rob Bell
What's this? Another review of Love Wins? I suppose if there were one book that didn't need another review, it's Love Wins by Rob Bell. But, since I blogged about it all of last week, I thought I should go ahead and give it an official sometimespreacher book review.
The book is written in Rob Bell's trademark style.
Full.
Of.
Questions.
And.
Whitespace.
(For somebody who's so concerned about the environment, Rob Bell sure wastes a lot of paper in his books. Ba-zing!)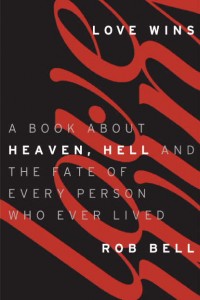 As I pointed out last week, it's important to know why Rob Bell is writing this book, and what perspective he is challenging. There are eight beliefs that formulate this perspective, and Love Wins is meant to be a "wrecking ball" that destroys these beliefs. The eight beliefs are:
Heaven is somewhere else.
Hell is somewhere else.
It's all about eternity.
God is angry with you.
Turn or burn.
The gospel is your "Get Out of Hell Free" card.
God has predestined a select few for heaven, and everyone else goes to hell.
Those who have never heard of Jesus will spend eternity in hell.
While Bell does a good job of deconstructing these beliefs, he fails, in my opinion, to reconstruct a convincingly biblical alternative. He uses some sloppy exegesis to get where he wants to go, and his scholarship does not hold up under inspection. What Bell is saying, however, is well worth saying; unfortunately his style far exceeds his substance. It's going to be left up to others to flesh out what the Bible says about these matters.
What I appreciated most about the book (and if you're familiar with Rob Bell, this is nothing new) was his emphasis on the continuity of heaven, hell, and earth. He has long preached that heaven is not simply somewhere you go when you die, but that eternal life starts in this life, and that one day heaven and earth will become one. I'll Fly Away is his least favorite hymn, and I can only assume that he's not a rapture guy, either.
What has earned Rob Bell the labels universalist and heretic (and John Piper's now infamous tweet, "Farewell, Rob Bell") is his chapter There are Rocks Everywhere. In this chapter, Bell asserts that "Muslims, Hindus, Buddhists, and Baptists from Cleveland" can all get into heaven. How? Through Jesus, but maybe not in ways that we are comfortable or familiar with. He affirms that Jesus is the only way to the Father, but he leaves the door open for many ways to get to Jesus.
Maybe you've heard stories of Muslims coming to faith in Christ through dreams and visions. This is the sort of thing Bell is talking about when he says that there are rocks everywhere. Jesus is drawing people to himself by whatever means necessary, and as King of Creation, he is free and able to use any tool in creation to accomplish his purposes. "Jesus is as narrow as himself and as wide as the universe." The book ends with a fairly standard evangelical call to faith in Christ now.
While not exactly a wrecking ball, I would say Rob Bell has done a good job of deconstructing the standard, fundamentalist view of judgment and the afterlife. It's a good book to read to begin a conversation, but it is insufficient to guide you through the Scriptures in an attempt to formulate answers. But perhaps that was Bell's point all along; he's always been more interested in questions than answers, and that's exactly where Rob Bell leaves us with Love Wins: far more questions than answers, far more doubt than certainty.