I Am A Follower by Len Sweet
The Church has a leadership problem. So argues Leonard Sweet in his new book, I Am a Follower. The problem, however, is not that we don't have enough leaders, or that our leaders have lost their way. The problem is that we have become enamored with leadership culture, obsessed with leading, and supremely focused on raising up the next generation of leaders. The trouble is, Jesus never told us to lead. He told us to follow.
The evangelical church has bought into a brand of leadership that, since the economic crisis of 2008, has gone bankrupt. But the lonely, trailblazing, genius-coming-down-from-the-mountain model of leadership is not what Jesus had in mind for his bride. The picture of leadership in Jesus' mind was himself, and the rest of us are called to follow him. "What the world defines as leadership is not the way God works through his people in the world. …Christians are called to live by faith in a world that lives by fame." (28-9)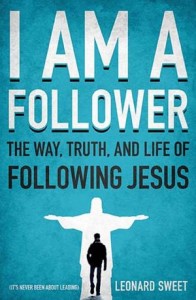 Christians are not to be leaders, Sweet argues. They are to be followers. First followers. In other words, Christians should find where Jesus is going, discover where he is at work, and then take up their crosses and follow him there. "In posing the paradox of the ox with an easy yoke and a light burden, Jesus is inviting followers to 'walk alongside me. Just be with me, and the doing will come naturally.' …Leadership is a functional position of power and authority. Followership is a relational posture of love and trust." (39-40)
I Am a Follower is a prophetic call to abandon the culture of leadership, with it's cultic practices of celebrity-worship and the fruitless pursuit of power and fame. Instead, we must take up the position of a sheep, humbling ourselves, and permitting Jesus to be the Good Shepherd of us—yes, even us church "leaders"! Sweet's call is one to return to a position of relationship to God in Jesus Christ, and to forsake our position of function within the institution of Church. "All too often these days, the church's stories are about success, leadership, justice, happiness. When ministers become social workers, preachers become motivational speakers, and evangelism becomes marketing, the result is a gimcrack gospel that is tawdry, tacky, and cheap. Asked, 'What story do you love to tell?' a first follower's first answer is, 'I love to tell the story of…Jesus and his love.'" (144)
I Am a Follower is a necessary, if imperfect, book for our times. Evangelicalism is swimming deeper and deeper into the ocean of celebrity and leadership. But there are sharks here, and there is blood in the water! If our primary aim is to focus on leaders, then who will care for the flock? If the image of the ideal Christian is a leader, then what hope is there for followers? The truth is, we are all followers, and Christ will be more glorified when we learn to accept that reality and let him lead.