Paradise of Delight
My wife and I had an encouraging conversation last night. We spent some time talking about the kind of parents, spouses, and Christ-followers we sense God calling us to be. We encouraged each other to keep surrendering to God, to let him lead more fully in our relationship, family, work, and church. We prayed together, inviting the Spirit to fill us with his graciousness and self-discipline, confessing the areas where we fall short, and committing ourselves to walking closely with the Lord.
---
If you read and obey the Scriptures, you will become a "Paradise of delight" to God.
---
Part of this life-giving conversation was inspired by something that I read recently. This year I am primarily reading the church fathers, those ancient Christian writers who have so wonderfully set the table for the generations that have followed. For too long I have neglected these important voices, impoverishing my soul by their absence. Seeking to right that wrong, I am working my way through a volume of selected ancient writings called
Early Church Fathers
, edited by Cyril Richardson. While much of it feels distant, like a storm on the eastern horizon long since past, there are occasional thunderbolts that strike the ground upon which I stand. The Letter to Diognetus is one such blast.
I shared from this short work this past Sunday as I called the people of Hope Church to worship, and have included a quote in a post I wrote Saturday night. My intention is to write at least two more posts to draw attention to this powerful, though anonymous, letter. There is such depth here, but perhaps nothing in the letter compares to this short excerpt I read to my wife last night.
If you read this [that is, the Bible], and listen to it earnestly, you will discover what God has prepared for those who love him as they ought, and have become a Paradise of delight, cultivating in themselves a flourishing tree, rich with all kinds of fruit, while they themselves are decked out with a variety of fruits.
-Letter to Diognetus
If you read and obey the Scriptures, you will become a "Paradise of delight" to God. Through understanding and obedience, we become like Eden, a rich and vibrant home, not for ourselves, but for God. If God has prepared a place for us (first in Eden, and now in heaven), then how much more can we prepare ourselves as a place for God to dwell? When you love God well (and love is always inextricably linked to obedience) you become a paradise of delight, a glorious and beautiful temple in which God lives richly by his Spirit. And this delight does not come at the expense of your own, but rather overflows in unspeakable bounty into your heart and soul. God does not demand obedience at the expense of your joy and delight, but instead offers paradise through understanding and obedience. "Taste and see," wrote the Psalmist, "that the Lord is good."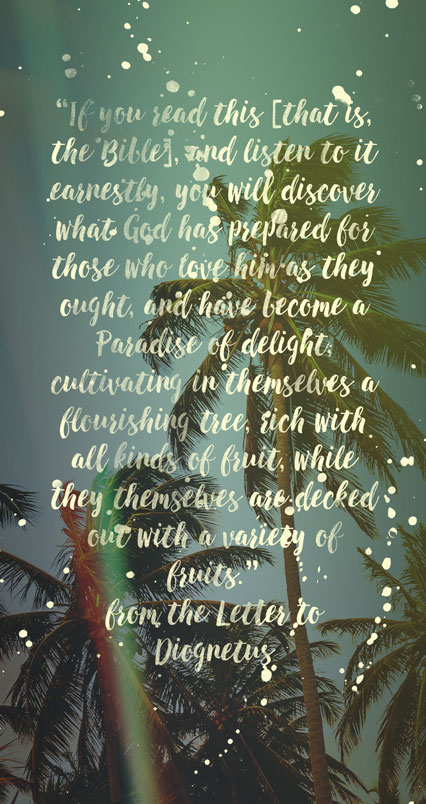 Through our understanding and obedience, we cultivate within ourselves a flourishing tree, rich with all kinds of fruit. This paradise of delight is an orchard of sweet fruit trees, refreshing and nourishing all who come near. Imagine this tree within you, vibrant with spiritual fruit! Imagine what you could offer to those around you, the spiritually famished, starving for lack of nourishing fruit.
Is your tree flourishing? I have to ask myself that question. Sometimes it feels as though winter has descended upon my paradise of delight. There are seasons of life when my tree is bare. That's a difficult confession for a pastor to make. After all, it's my job to be close to God, to stay encouraged, and to nourish others. And yet, the image of the flourishing tree in the midst of the paradise of delight has captured my imagination because it has struck an aspirational chord within my heart. This is what I want to be, though I so often fall short. What do we do when our paradise of delight has become a wilderness of mediocrity?
The writer calls us to cultivate this tree. Without attentive care, the tree will wither at the root. It will not produce fruit unless we tend to it. But when we give it the proper attention, pruning here and there, the tree within us will flourish. Our paradise will grow, and we will become a blessing to God and others. There are, I believe, at least three things that we must do to cultivate a flourishing tree within.
First, we must ask God to fill us with the Spirit of self-discipline. Of course, this is the same as the Holy Spirit, but with an important point of focus. Cultivation requires discipline. Most of us do not possess self-discipline naturally, so we need it to be given to us by God. Paul writes in 2 Timothy 1:7, "For the Spirit God gave us does not make us timid, but gives us power, love and self-discipline." The Holy Spirit gives us the self-discipline we need to bear the fruit of a flourishing tree, to become a paradise of delight for God.
---
Prayer makes the tree strong, sending nourishment from root to leaf.
---
Second, we must cultivate a rich life of prayer. Prayer makes the tree strong, sending nourishment from root to leaf. Without prayer, we cannot bear fruit. In his book
Practice Resurrection
, Eugene Peterson writes, "The practice of prayer, if it is going to amount to anything more than which lists and complaints, requires a recovery of personal, relational, revelational language in both our listening and our speaking." (p. 156) Our prayer must be personal for our tree to flourish. The paradise of delight is not an impersonal place, God's secret garden where he can getaway from everybody. It is where he gets to meet with you.
Third, we must study the Scriptures in a way that facilitates obedience. The Scriptures are not merely a storehouse of information; they are a wellspring of life. To think that we can know the Bible without obeying it is a remnant of Gnosticism, but true Christianity draws no line of separation between knowing and obeying. As the apostle James says so bluntly, "Do not merely listen to the word, and so deceive yourselves. Do what it says."
Self-discipline. Prayer. Study toward obedience. This is what came out of that encouraging conversation with my wife last night. These are what you and I must do to cultivate the flourishing tree within us, one that is rich in fruit and fosters a paradise of delight for God and spiritual nourishment for those in our lives. May you become God's Eden, and may the fruit of the tree within your heart satisfy the spiritual needs of your children, family, and friends.