David Platt's book, Follow Me, is a Reformed, missional catechesis with the goal of moving consumer "Christians" into full discipleship. The problem Platt sets out to address is the masses of "unconverted believers" that attend, worship, and serve in church every Sunday. His diagnosis is stark: "Multitudes of men and women at this moment think that they are saved from their sins when they are not." (7) American Churches are full of people who claim to be Christians, believe that they are Christians, and may even be told by their pastors that they are Christians, but they are not, in fact, Christians at all. "Only those who are obedient to the words of Christ will enter the Kingdom of Christ. If our lives do not reflect the fruit of following Jesus, then we are foolish to think that we are actually followers of Jesus in the first place." (16) Put simply, "People who claim to be Christians while their lives look no different from the rest of the world are clearly not Christians." (18)
Platt puts his finger squarely on the biggest problem facing the American Church today–Consumer Christianity. Not only is there little distinction, morally, between the lives of self-identified Christians and self-identified nonChristians, there is also little difference between the way churchgoers approach Church and the way they approach grocery shopping. Consumerism, not discipleship, has become the world-defining belief of American Christianity. For Platt, this is most evident in the self-centeredness with which many Christians understand salvation.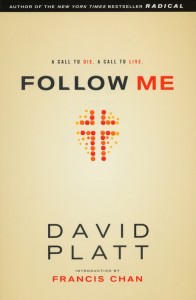 David Platt begins his catechesis with a study of total depravity, particularly in the light of conversion to Christ. Many Christians will talk about their salvation moment like this: "I invited Jesus into my heart…," or, "I found Jesus at…." This, Platt argues, is backwards at best. We do not invite or find Jesus; rather, he argues, Jesus invites and finds us. "The reality of the gospel is that we do not become God's children ultimately because of initiative in us, and he does not provide salvation primarily because of an invitation from us. Instead, before we were ever born, God was working to adopt us." (29) God initiates and enacts salvation because, left to our own devices, we would never choose God. We are totally depraved, i.e., sinful through and through with no desire for God in our hearts. We are, as Ephesians says, "dead in [our] transgressions and sins." As Platt aptly puts it: "Inviting Jesus to come into your heart is impossible when you're dead in sin." (34)
From his discussion of depravity and salvation, Platt moves to the distinction of Christianity among the world's religions. Christianity's distinction, he argues, lies in it's adherence, not to a list of rules, but to a person–Jesus Christ. "We are not called to simply believe certain points or observe certain practices, but ultimately to cling to the person of Christ as life itself." (54) Because Christianity is a relationship with the Creator God, it is fundamentally transformative, or as Platt puts it, "supernaturally regenerative" as opposed to "superficially religious."
Superficial religion involves a counterfeit "Christian" life that consists of nothing more than truths to believe and things to do, and it misses the essence of what it means to follow Jesus. Supernatural regeneration, on the other hand, involves an authentic Christian life that has been awakened by the Spirit, truth, love, passion, power, and purpose of Jesus. (66)
If I were to sum up the core of Platt's book, I would say it like this: Follow Jesus into his mission to save lost souls. As we saw in his best-seller Radical, David Platt's heart is directed toward taking the Gospel to all nations. The antidote to Consumer Christianity is Missional Discipleship, i.e., participating in the fulfillment of the Great Commission. This, in my opinion, is where the book excels because it is the way in which it most clearly reflects the calling of its author. David Platt has an apostolic heart, and the Church would do well to heed his call to move from lazy, superficial religion to missional, supernatural regeneration by proclaiming the Gospel to the ends of the earth.
My Criticism
If you love and adore David Platt and are thoroughly Reformed in your theology with no possibility of ever changing your mind, I encourage you to stop reading this post now, for I would like to address the content of the second chapter, which I have already touched on briefly. In this chapter, Platt makes a thorough, if accessible, presentation of the doctrine of total depravity. He cites many Scriptures, and uses several illustrations, the most moving of which is the story of the adoption of his son. In short, he makes a compelling case that:
God is solely responsible for the initiation of salvation.

Human beings are completely sinful, so much so that we are characterized as being "dead" in our sins.

God hates, even abhors, sinners.
In principle, I agree with the first statement. God is solely responsible for the initiation of salvation, though I would say that happened on the cross and in the empty tomb of Jesus. Only God could do that! From there, God has charged his followers with the proclamation of this news, this Gospel, to everybody else on the face of the earth. In other words, God has placed the message of salvation into human hands. While God did everything to make salvation possible, he has commissioned us to make that salvation available.
Furthermore, Jesus tells parables in the Gospels that seem to give another side to the story. For example, in Matthew 13:44, Jesus says this, "The kingdom of heaven is like treasure hidden in a field. When a man found it, he hid it again, and then in his joy went and sold all he had and bought that field." The active agent in this story is not God or his kingdom, but the human being who found salvation, then gave up everything he had to gain it.
This leads me to the second point of disagreement, which is about the idea of being "dead" in our sins. Here is what Platt says:
Our problem is not simply that we have made some bad decisions. Our problem is not just that we've messed up. Our problem is that we are–at the very core of our being–rebels against God, and we are utterly unable to turn to him. This is what the Bible means when it says we are dead in sin. When Paul wrote to the Ephesian Christians and said, "You were dead in your transgressions and sins, in which you used to live," he meant that they were completely dead. Not partially dead. Not almost dead. Not halfway dead. Not kind of dead. Completely dead. (34)
It's important to point out that they were not, in fact, completely dead, for if they were, it would have been too late for them, and they would not have been alive to hear the proclamation of the Gospel or respond to it in faith. I'm not trying to be a smart aleck, I just want to point out that Paul's use of "dead" is metaphorical, not literal. Nor was Paul saying that the Ephesians were "spiritually dead." Paul would not have separated the spiritual life from the physical life, saying that one could be dead while the other was alive; this was an invention of the Gnostics.
The view of humanity painted here by Platt, and elsewhere by other Reformed writers, is simply inaccurate. It assumes that the truest thing about humans is Genesis 3. Platt sums up this view well with this statement: "As we have already seen all the way back in Genesis, our sin is not something that exists outside of us. Sin is ingrained into the core of our being. We don't just sin; we exist as sinners." (42-3) The trouble with this statement is that Platt doesn't go back far enough into Genesis. Before there was a Genesis 3, there was a Genesis 1 and 2, in which humanity is called, by God, good. To be sure, Genesis 3 is all-too-true now–we are sinful creatures–but there will come a day when that will not be true no longer. Genesis 3 is temporary. Genesis 1 and 2 are eternal. The creative act of God is more powerful and more enduring than the destructive acts of Satan and human beings.
In order to understand humanity, we must seek to grasp the tension of the present situation–not simply that Genesis 1, 2, and 3 are all true right now, but also that the Gospels, and particularly the Gospel, are also true right now. We were made by God in the image of God. We were not created sinful. That came through our choice to worship ourselves and disobey God. So we became broken. Then God did the impossible–without becoming sinful, he, too, became broken so that we might be put back together again. Why did he do this? Because he loves us.
Which brings me to my final, and most vehement point of disagreement with Platt: God does not hate sinners. Everything about Jesus should drive this thought away from our hearts and minds. If Jesus is the perfect image of the invisible God, if Jesus is the logos of God, if Jesus does only what he sees his Father doing, then there should be no doubt in our minds, even if we only consider the cross, that God does not hate us, but that he loves so lavishly that he would withhold nothing from us! If you need biblical proof that God does not hate sinners, this is it: Jesus!