The only bland thing about Wolfgang Simson's The House Church Book is the title. From the first page he confronts the reader with a passionate and prophetic call for the Church to return to its biblical and first-century roots of form and expression. Whether you agree with him or not (and you're likely to find yourself shouting "Amen!" on one page and crying foul on the next), Simson offers a compelling vision for how to move the Western Church forward.
Between the preface and the introduction you'll find Simson's "15 Theses Toward a Re-Incarnation of Church", which is as rich and challenging as anything else in the book. Here are three of my favorites:
Christianity is a way of life, not a series of religious meetings. "The nature of church is not reflected in a constant series of religious meetings led by professional clergy in holy places especially reserved to experience Jesus. Rather, it is mirrored in the prophetic way followers of Christ live their everyday lives in spiritual extended families, as vivid answers to the questions that society asks, and in the place where it counts most—in their homes." (xiii-xiv)
Time to change the "cathegogue system." "The historic Orthodox and Catholic Church—that existed after Constantine in the fourth century—developed and adopted a religious system based on two elements: a Christian version of the Old Testament Temple—the cathedral—and a worship pattern styled after the Jewish synagogue. …Until today nobody has really changed the system. The time to do that has now arrived." (xiv)
A church is led by more than a pastor. "A pastor (shepherd) is an important member of the whole team, but he cannot fulfill more than part of the task of equipping the saints for the ministry. He has to be complemented synergistically by the other four ministries [of Ephesians 4:11] in order to function properly." (xvi)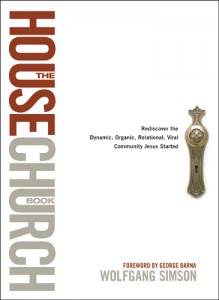 The two major themes of Simson's book are: 1) The shift from organized to organic church, and 2) The application of the fivefold ministry (from Ephesians 4:11) to the leadership structure of the local church. These two themes come up again and again as he advocates for a smaller and broader church structure, one that is worked out, not in cathedrals or auditoriums or "sancti-nasiums", but in living rooms and dining rooms and backyards.
As you have probably deduced from the book's title, Simson advocates a return to the house church format, one that he believes is biblical and consistent with God's intended plan for the Church. Shifting from megachurches to house churches is the shift from organized to organic church. Something happens, he says, when a group exceeds twenty people—it becomes an organization. "In many cultures twenty is the maximum number of people in a group that still feels like 'family.' Groups of this size and smaller still feel organic and informal, without the need to become formal or organized." (3) Growing larger than twenty requires an artificial organizational structure be placed around the organism, which "chokes it, conditions it, and ultimately prevents relational and spontaneous fellowship." (4)
What happens when your group exceeds twenty members? Time to multiply! It is through multiplication that the organic church grows—a model Simson sees working out in creation itself. The growth potential of the organic house church far outpaces that of the current megachurch, much like a rabbit can vastly out-birth an elephant. The numbers are staggering, as Simson estimates that a multiplying house church of 12 people can, by multiplying each church once per year over a period of 20 years with an attrition rate of 25% every 5 years, grow to over 165,000 house churches with nearly 2,000,000 people attending. (59)
The key to this growth is "the fivefold ministry" of apostles, prophets, evangelists, pastors and teachers. One person cannot play all five of these roles, but the church desperately needs all five in order to be a healthy, multiplying body. Their task, according to Ephesians 4, is to equip the church to do the actual work of the ministry. "They are to be evangelistic, prophetic, teaching, pastoral, and apostolic trainers—not demonstrators, teachers, or one-man shows. An evangelist's true fruit is not a convert, but more evangelists." (62) The problem we have today, he warns, is that "instead of equipping God's people for the ministry, [these people] are performing it for them." (62) The solution is to change the leadership model from CEO to parent. "Leadership in the way we are used to seeing it in the business, political, or religious world is not really a biblical concept. But leadership in the form of parenthood is. After all, God is not simply a leader; He is a father." (63)
Simson is calling for a reformation of structure—what he calls the Third Reformation. Our current models will continue to frustrate God's plan for the Church. In order for the gospel to get bigger, the Church must get smaller. In order for believers to grow (and therefore their churches to grow), they must be exposed to the spiritual parenting of apostles, prophets, evangelists, pastors and teachers. "Many Christians have reached a plateau in their lives because they have never really been exposed to the exciting variety of these ministries and are instead sitting 'under' the ministry of a one-size-fits-all 'pastor,' who is trying to embody all of the ministries himself. Many such pastors burn out quickly, and many traditional congregations are left wondering why things aren't moving." (70)
According to Wolfgang Simson, the way forward for the Church in the twenty-first century is to look back to our brothers and sisters in the first century and find in their congregational models God's intended plan for his people. As long as we try to grow our congregations large, the individual Christians and the gospel itself will remain small.
Questions: Is the house church model the God-ordained, biblical model of Church for all places and all times? How do small groups in large churches succeed or fail to live up to the house church model? Is the single-leader, pyramid structure of church leadership an acceptable model for God's people? Is the fivefold ministry for today? If so, how would it look if it were implemented in your church?