The God First Life by Stovall Weems
In his book The God First Life, Stovall Weems, pastor of Celebration Church in Orlando, wants you to uncomplicate your life by doing it God's way. Working from the familiar passage of Matthew 6:33, Stovall writes that God will provide all the things we need in life, but he has to remain first in our lives, "regardless of my questions or regardless of whether I understood something or how I felt about it." (17) When we put God first, we get a new family, a new life, and new freedom. The life we instinctively want and pursue, he argues, is only available through "God-first living." (20) 
---
A life of anxiety is never an issue of unmet need but always an issue of disordered priorities. -Stovall Weems, 22
---
Stovall uses the three "new" promises – a new family, a new life, and new freedom – to organize the book. Our new family is God's family, into which we are adopted by faith in Jesus Christ, and with whom we are called to do life together. This new family is vital because "community is where God shapes us into the image of Christ." (63) Our new life is the life in the Spirit, empowered by God himself to do more and become more than we ever thought possible. This new life is also a life of worship, prayer, and service. Finally, the new freedom we have is the grace we enjoy from being set free from sin. We are free from the sins of our past and empowered to live for God in the present. Putting God first, walking out the powerful promise of Matthew 6:33, is the key to all of this. Stovall concludes, "you will find that a world where you are not at the center is a world where happiness and blessing can be experienced – God's way." (154)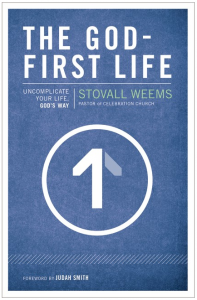 My experience of the book is that it is simple, sometimes overly so. I kept wanting to argue back, "Yes, that's true, but it's not as easy as all that. There are other complications to be considered! Life doesn't always work out that way." The temptation for readers of this book will be to see God as a cosmic vending-machine; you put in your time and money, and you get back the blessing you want. The important caveat to all of this, and I think Stovall would agree with this, is that God's blessing doesn't necessarily come how we think it should. He is not a vending machine after all, and he cannot be manipulated into giving us what we want. His greatest blessing is not the gift of an easy life, but his presence in the midst of a difficult one. Putting God first is the key to living with God, and there is no greater blessing than abiding with the Lord.
The God First Life is a good, practical primer on the basics of living faithfully with God – an area, I would add, where so many of us fail, even the veteran saints! I've been walking with Jesus my entire life, and this was still a good reminder for me to do the simple things everyday – pray, study, tithe, serve, and fellowship with others. This is a good place to start for those who are trying to figure out how to live as a Christian, and for those who may have been at it for so long they might have forgotten.
I received a free, advanced copy of this book from the publisher, Zondervan, for the purposes of reviewing it.