In 2010, the world watched anxiously as 33 Chilean miners were trapped over 2,000 feet below the surface of the earth. As you can imagine, the men faced overwhelming challenges living that far underground. But one of the most dangerous aspects of their plight was the complete lack of daylight. According to this Newsweek article, "the physical and psychological toll of the darkness" could have dramatic effects well after the miners are rescued. According to this BBC report, many of the miners are struggling to move on. Living in darkness wreaks havoc on both the mind and the body.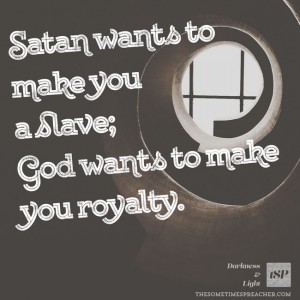 For those of us who watched, the images of the dramatic rescue of the miners will stay with us forever. It is remarkable to see someone delivered out of darkness.
It's no wonder that, in the Bible and many other religious texts, darkness is used as a metaphor for evil. In Colossians 1:13, Paul writes that God "has rescued us from the dominion of darkness and brought us into the kingdom of the Son he loves," what he calls earlier the "kingdom of light."
Just like the prolonged absence of sunlight, spiritual darkness takes a toll on our minds and bodies. Satan, the ruler of the dominion of darkness, seeks to enslave us through temptation and deception. Prolonged exposure to, and participation in, evil makes us less than human. The lies of the devil distort our minds and cause us to commit evil (sin) with our bodies.
Continue reading