God in Slow Motion by Mike Nappa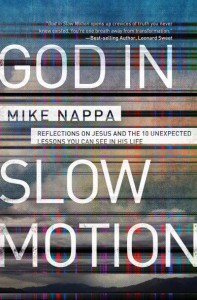 What does God look like in slow motion? Does the thunderbolt in his hand meet halfway between the earth and sky, like real lightning? Does the furrow of his angry brow seem extra intimidating in super slo-mo? In fact, God in slow motion is Jesus in real life, and according to author Mike Nappa, there are ten "unexpected lessons" we can learn from his life.
These ten unexpected lessons take the form of apparent contradictions – oxymoronic chapter titles that capture the inverted nature of what we think God looks like and how he actually appears. Mischievous Glory is how Nappa describes the birth of Jesus, which is the first, and perhaps most profound, chapter of the book. Nappa argues that the way in which God chose to enter the world upends all of our expectations of what glory truly is. We see, in the nature of the Incarnation, that Glory = Humility. 
---
"God, in his great wisdom, thumbed his nose at all human expectations of greatness, choosing humility underfoot as the most resplendent setting for the opening act of his grand redemptive work." (9)
---
Taking ten stories from Jesus's life and ministry, Nappa paints a picture of God that is both surprising and comforting. God is, after all, like Jesus, and not like the angry gods of our imaginations. To see God in Jesus is to see God in slow motion, viewing each frame of God's activity with full clarity and in sharp focus. Jesus makes God clear, though that doesn't mean the oxymoronic lessons make any more sense to our imperfect, rightside-up (or is that upside-down?) minds.
Nappa's book reads like a series of sermons about Jesus, and would be useful for new or younger believers that are just getting to know what God is like. It could also be a tremendous help for those who have grown up with a false understanding of God, particularly one that painted a picture of God as a loveless, joyless, graceless deity ready to dole out punishment at the first opportunity.
BookSneeze® provided me with a complimentary copy of this book.