There is life beyond death. But not life as we have it today. Not life full of trials, despair, or let downs. No loneliness or manipulation or violence. Yes, there is life beyond death, but it will be almost completely unrecognizable to us that we will struggle to even call it life. It will be life with all the bad stuff taken out and all the good stuff amplified to the point that we will hardly be able to bear it. And yet we will know it, find rest in it, and feel as though it is precisely the thing we were made for.
The funny thing about this life, though, is that it's a person. With a name.
Jesus.
On the night before he was crucified, Jesus told his disciples, "I am the life." Jesus is the life that we will experience in heaven. He is the one in whom we will find rest, the one to whom we will shout in ecstatic discovery, "You are what I have been waiting for!"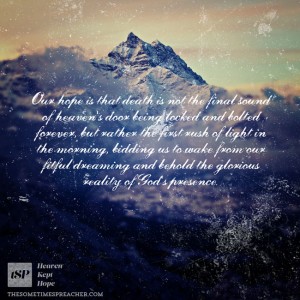 This is the hope that Christians have – the hope to which Paul alludes in Colossians 1:5. It is our heaven-kept hope. Sure, we catch glimpses of it, of him, in this life, like we are peering through a keyhole into a gloriously sunlit courtyard full of blooming flowers and fruit-bearing trees. But we don't experience the full fulness of him today. We walk by faith, not sight.
Our hope is that death is not the final sound of heaven's door being locked and bolted forever, but rather the first rush of light in the morning, bidding us to wake from our fitful dreaming and behold the glorious reality of God's presence. Death is not the fearful enemy, but rather the welcome transition from this life of faithfulness to the eternal life of fulness in the presence of Jesus.
It is this hope that allows us to live with such fierce love and faith today. We love because of the fulness of love that awaits us, and that we taste in parts today. We live in faith now because of the power of the presence of God that we are destined to experience in heaven. Heaven-kept hope is not simply delayed infinite gratification; it is the source and strength we need to live each day on this side of death with faith in Christ Jesus and love for all God's people.