Our society has come to believe a very funny thing: Desire is immutable. That's a fancy word that means unchangeable. We believe that desire, and especially sexual desire, is not only impossible to change, but is fundamental to our identity. The person, then, is not simply a slave to desire, but is indistinguishable from it. And the person cannot change.
But the Scriptures tell us a different story. While the Bible affirms that we are desiring creatures, and that desire is an important part of who God created us to be, it also affirms that desires can change. Paul tells us that before we came to know Christ we were, in fact, enslaved to the desires of our wicked hearts. But now that Christ has revealed himself, we are, through faith, slaves to Christ. This means that we are set free to love what God loves.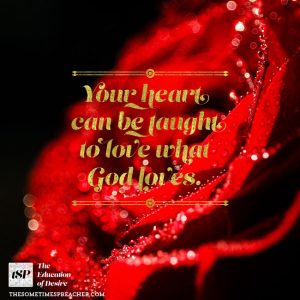 Far from being immutable, desire can be educated. Your heart can be taught to love what God loves, to long for the things of heaven. Your heart is transformed as Jesus lives his life through you.
The first lesson of the education of desire is to replace personal satisfaction with the glory of God. You need to learn to take a back seat to God. When you become a Christian, the aim (the telos) of your life changes. You no longer pursue the fulfillment of your every wish. Instead, you seek first the kingdom of God and the good things he desires for the world.
The second lesson of the education of desire is to find contentment in any circumstance. This is Paul's hard won lesson. He experienced trial upon trial, but he learned to place his contentment in Christ, who stands above every circumstance. Circumstances are in a constant state of flux. If your contentment is dependent on how good things are in your life, you will never be truly content. Instead, learn to be content in the One who is the same yesterday, today, and forever.
The third lesson of the education of desire is to set your heart on things above. You must learn to direct your desires heavenward. This means that you must desire the joy of heaven and the justice of God above the pleasures of earth. It also means that you must root your desires in the things of God – human salvation, relational reconciliation, self-giving love, resurrection hope. You must long for these things, and you must long from these things. The heart of God is the only reliable source for the desires of men and women.
When it comes to the education of desire, we are all pupils of the Holy Spirit. He is at work in you to give you a new heart, one that is malleable in the hands of God. He can change you, and he is changing you. Your responsibility is to work with him, not against him. When wicked desires spring up in your heart, surrender them to the power of the Spirit and ask him to make you new.