It has often been said, "God accepts you just as you are, but he loves you too much to leave you that way." Why would God want to change us? Because we are not yet like Jesus.
The same is true of the whole world. God loves the world so much that he sent Jesus to die for our sins, but he also loves the world too much to leave it just like it is. Just as God is at work in you, making you more like Jesus through the power of the Holy Spirit, so he is at work in the world, turning the kingdom of darkness into the kingdom of light.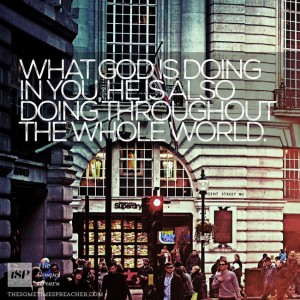 What God is doing in the world, he is also committed to doing in you. What God is doing in you, he is also doing throughout the whole world. This is what it means for the Gospel to grow and bear fruit. You are becoming more like Jesus, and God's kingdom is coming on earth as it already exists in heaven. The microscopic work of God in individuals mirrors his macroscopic work in the world.
The best way to get on board with what God is doing in the world is to work with him as he forms you into the image of Jesus. The Gospel bears fruit in the world as it bears fruit in your life. The more you and I become, in the power of the Spirit, people who are honest, loving, kind, gracious, self-controlled, and joyful, the more this world will be transformed into the kingdom of God. And this is precisely what is happening all over the world. The same Spirit is at work through the same Gospel in the lives of people in every nation, transforming people into the image of Jesus and communities into pockets of God's kingdom.
The Gospel grows. Are you growing with it?