I used to live in the house across the street from the church where I now minister. When I look out the windows in the back of the church, I can still see our old home and the huge trees towering above it in the backyard. During stormy nights I would lay awake in bed, anxious that these trees would topple onto the roof and crush our family.
In June of 2012 we experienced a kind of storm that I had never heard of before: a derecho. A derecho is a massive thunderstorm system with damaging straight line winds, which in this case reached up to 85 mph. After the storm passed our backyard looked like a jungle. There were tree branches everywhere. Our trampoline was crushed under a massive branch that had fallen at least 30 feet. It was nearly impossible to walk from the back door to the fence at the end of our property. Fortunately, the trees themselves were all still standing. But there sure was a lot of cleanup to do.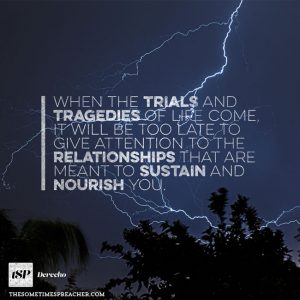 Though parts of these massive trees came crashing to the ground, the trees themselves remained deeply and firmly rooted in the soil. For me, this became a picture of the strength we receive when we remain rooted in Christ. Little did we know at the time, but a terrible and deadly storm was looming on the horizon of our family's life, and we would need those deep roots in Christ to keep us strong and steadfast.
It is vital for believers to be, as Paul said in Colossians 2:7, "rooted and built up in Christ." This means that we need to have a nourishing, life-giving relationship with Christ, while also being deeply connected to others within our churches. Your root system is your personal relationship with God and your relationships with others. It is crucial for you to invest in these relationships so that your roots will be deep in Christ. When the trials and tragedies of life come, it will be too late to give attention to the relationships that are meant to sustain and nourish you.
One of the most important ways that you can deepen your relationship with God is through prayer. Jesus taught us to pray relationally, addressing God not by his proper name, but with the word Father. Prayer is relational, not transactional. It is not an opportunity to present your grocery list to the heavenly farmer; it is your opportunity to have a heart-level conversation with your heavenly Father. Being rooted in Christ means having a deep and vibrant relationship with God through prayer. Do not wait for life's derechos to pray. Begin today.