Since our son Ezekiel passed away two and a half months ago, Breena and I have been often asked: How are you doing? The truth is, we're doing well. This fact can be difficult for some to understand. After all, our 4 1/2 year old son died of a terrible disease that slowly destroyed his brain and his body for more than two years. How could we possibly be doing well after experiencing something like that?
The only answer we have to that question is that we've found a hope that transcends death. We're doing well because we have hope that there is something, or someone, who is greater than death. This hope, which has buried itself deep within our hearts over the past two years, is rooted in Jesus and his resurrection from the dead. We believe that Jesus conquered death once and for all; not that he has yet eradicated it and our bodies will never die, but that he has risen again from the dead, thereby destroying the power of death. If Jesus rose again, then death isn't final, at least not for those who follow Jesus.
Nothing else on earth offers this kind of hope. No other religion or ideology offers the kind of hope that Christianity does through the resurrection of Jesus. The cross and resurrection, the "true message of the Gospel," gives humanity a hope that no other way of life can – a hope that strips death of its power to make us afraid and replaces it with a vision of an unimaginably glorious and good life beyond death. As Paul writes in 1 Corinthians 15,

Listen, I tell you a mystery: We will not all sleep, but we will all be changed—in a flash, in the twinkling of an eye, at the last trumpet. For the trumpet will sound, the dead will be raised imperishable, and we will be changed. For the perishable must clothe itself with the imperishable, and the mortal with immortality. When the perishable has been clothed with the imperishable, and the mortal with immortality, then the saying that is written will come true: "Death has been swallowed up in victory."
"Where, O death, is your victory?
Where, O death, is your sting?"
The sting of death is sin, and the power of sin is the law. But thanks be to God! He gives us the victory through our Lord Jesus Christ.
-1 Corinthians 15:51-57
This is the foundation of our hope – Jesus Christ. "The hope of every Christian is a person, the Redeemer, Jesus Christ."[i] Through his resurrection, he has conquered the great and terrible tyrant that has plagued mankind since the fall. This is the fulfillment of the promise he made through the prophet Isaiah.
On this mountain Yahweh Almighty will prepare a feast of rich food for all peoples, a banquet of aged wine— the best of meats and the finest of wines. On this mountain he will destroy the shroud that enfolds all peoples, the sheet that covers all nations; he will swallow up death forever. Sovereign Yahweh will wipe away the tears from all faces; he will remove his people's disgrace from all the earth. Yahweh has spoken.
-Isaiah 25:6-8
In his resurrection, Jesus has swallowed up death forever. We don't have to be afraid anymore. Do I miss Zeke? Yes, I do. I miss him terribly. I will always carry around with me the burden of emptiness that came from his death. But I have a hope that transcends death and is stronger than mere wishful thinking – that we will be together again, not as father and son, but as brothers. I mourn and grieve, and sorrow strikes my heart at various times and in different ways, but I am sustained by the reality that eternal life is stored up in Jesus, and no one and nothing can assail it. What Paul wrote about in 1 Thessalonians has become my reality:
Brothers and sisters, we do not want you to be uninformed about those who sleep in death, so that you do not grieve like the rest of mankind, who have no hope. For we believe that Jesus died and rose again, and so we believe that God will bring with Jesus those who have fallen asleep in him.
-1 Thessalonians 4:13-14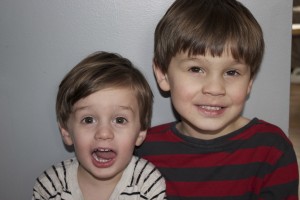 This hope is not just wishful thinking. It's not the same kind of hope that says, "I hope I get what I want for Christmas." That kind of hope is just wishing. That kind of hope is rooted in our desires. The hope that I am talking about is rooted in a past event and a divine promise. Resurrection has already happened – to Jesus. And he has promised that it will one day happen for all of his people. This is a strong and reasonable hope, and it has not just sustained me, but given me the ability to live
for
and
with
God through my life's most difficult circumstances.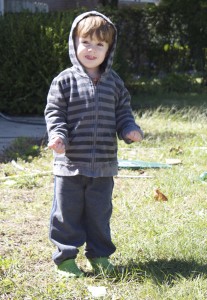 The hope of resurrection, grounded in the historical reality of Easter, has allowed me and Breena to thrive in the midst of suffering. It's not because we're great people. We're not. People tell us all the time, "You guys are amazing." We're not amazing. We're not better than anyone else. Without the hope handed to us through the resurrection of Jesus Christ from the dead, we would not have made it. But through our son's disease and death, we have been thrust onto an amazing hope – a hope that is better than anything else. And that has strengthened us.
Long ago, Peter told his church, "Always be prepared to give an answer to everyone who asks you to give the reason for the hope that you have." Through our son's death, we have profoundly experienced the depths of that hope, the hope who is Jesus. We have, in that sense, laid everything on the line for Jesus. We have thrown ourselves upon the cross and empty tomb, trusting that Jesus really did rise again and, therefore, we (and Zekey) will too. My desire is for everyone to know this hope and to hear the reason we have it.
---
[i] Lane, Timothy and Tripp, Paul. How People Change, p. 15. New Growth Press, Greensboro, NC, 2008.