My last sermon as a pastor at Grace Church was from John 5:16-30. It is a rich passage in which Jesus argues for his authority to heal and judge, and I was only able to scratch the surface of it in the thirty minutes I had to preach. There was so much that I wanted to get into but couldn't, including how Jesus referred to his resurrection, the closeness of Father and Son, and just exactly what he meant when he spoke of "life."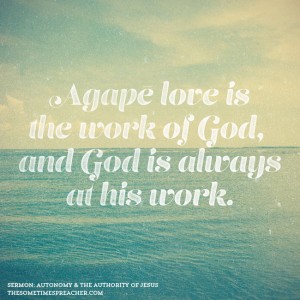 Instead, I talked about why the Jewish leaders were persecuting him and how tightly they held to Sabbath-keeping. There was almost nothing that a Jew could have done in those days that would have been more offensive, more disgraceful, to both his heritage and his people than to break the Sabbath. And this is precisely what Jesus had done when he healed a man who had been crippled for 38 years, and then told him to carry his mat home with him on the Sabbath. Because of his blasphemy and sacrilegious disobedience of the Sabbath laws, Jesus was labeled a dangerous heretic.
The Sabbath had become the dominant means by which faithful Jews identified themselves. It was a primary cultural identity marker, so deeply ingrained in their way of life and thinking that it could never be called into question. We have something like that here in America: Freedom. Freedom is the American Way. Freedom is the American Truth. Freedom is the American Life. But, by making freedom a cultural idol, we have distorted and perverted it.
Continue reading