Pure Scum by Mike Sares
Maybe I was 12 years old. Or 13. Either way, I was deeply entrenched in the most awkward phase of my life when my giant Greek youth pastor, Mike Sares, asked me and a friend to appear with him on television. Our task was to prerecord a series of introductions for Christian music videos that would play at 4:00 in the morning on the local NBC affiliate. I was extremely nervous. It was the '90s. We didn't get multiple takes. It was bad. "That was great," Mike lied.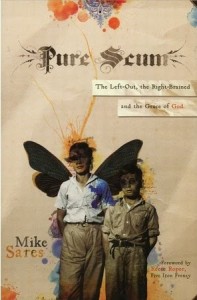 Shortly after that, Mike left Toledo for Denver. I hope it wasn't because he realized that nobody in the youth group had the potential to become an on-air personality. If I had told him then that I would go on to graduate from Ohio State with a degree in Theatre and become a preacher, he probably would have looked at me askance and said in his deep voice, "Hmmm."
Mike's new book, Pure Scum, is the story of Scum of the Earth Church, which he started with a small gathering of young adults (including the late ska band Five Iron Frenzy) in downtown Denver. On the back cover of the book, the bio says that Mike "was hoodwinked by the Holy Spirit into pastoring the folks who became Scum of the Earth Church in Denver". Hoodwinked by the Holy Spirit. That sounds about right.
They call it "church for the left-out and the right brained". They reach out to Goths, punks, skaters and the homeless in the heart of Denver. They share a meal in the middle of their church service every Sunday night. They sent out my friend Joshua and his new bride Liann in a converted veggie-oil bus/mobile home to share the love of Jesus all over the country. This is how they do church; and it's beautiful, authentic, and life-changing.