The Prodigal God by Tim Keller
With the possible exception of the story of the Good Samaritan, the Prodigal Son is probably the most famous of Jesus's parables. You've heard it before. No doubt you've read it. You've even heard it preached on at church. If there's anything in the New Testament that you've got down by now, it's the story of the Prodigal Son. It is absolutely certain that what Jesus means by that parable is that no matter what we do, no matter how far we run, we can always come back to God.
While that's true, that's not all that the parable is about. It goes, in fact, much, much deeper. To discover that meaning, may I recommend to you Tim Keller's excellent book, The Prodigal God. You will never read the parable the same way again.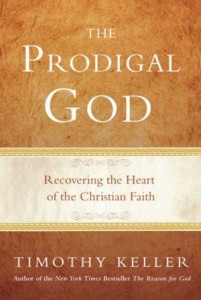 The key, Keller argues, is to recognize that there are two sons in the story, and both are lost. In fact, the younger brother may have captured the attention of the evangelical mind, but the story is really about the elder brother. It was originally told, after all, to a group of elder brothers called the Pharisees. The younger brother is lost because of his sin, but the elder brother is lost because of his righteousness.
Huh? How can that be? It is because the elder brother tried to manipulate and control his father by obeying all of the rules. "It is not his sins that create the barrier between [the elder brother] and his father, it's the pride he has in his moral record; it's not his wrongdoing but his righteousness that keeps him from sharing in the feast of his father." Like the younger brother, the elder brother never truly cared about his father; he only cared about the estate. While the younger brother was audacious enough to demand it, the elder brother quietly resented his father's presence whilst working slavishly to keep him happy. For elder brothers, "the good life is lived not for delight in good deeds themselves, but as calculated ways to control their environment."
Where Keller goes from here will absolutely astound you, and no doubt leave that impression on your spirit that, at last, this parable makes complete sense! This book will be a valuable resource not only for understanding the parable of the Prodigal Son, but also of discovering how to rightly relate to God.