The Nuts and Bolts of Church Planting by Aubrey Malphurs
When I decided to go ahead with planting Ember Church in the fall of 2010, I was overwhelmed by the process. I knew there was a lot of work to be done, but I didn't know where to start. I found a lot of books on church planting, but couldn't tell which ones were good and which ones weren't. I tried judging those books by their covers, but this turned out to be a bad idea. The old saying is true after all, I suppose.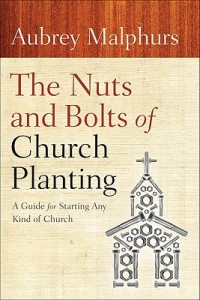 It wasn't until several months into the process that I finally picked up The Nuts and Bolts of Church Planting by Aubrey Malphurs, and I immediately wished I had read this book sooner. This book is exactly what it says it is: the nuts and bolts of a project that can often seem overwhelmingly complex and about as solid as water. Malphurs helps the reader get his hands on and head around the process of church planting.
The Nuts and Bolts of Church Planting demystifies the church planting process and gives new church planters (like myself) a plan and some solid direction for accomplishing their end of this task. He simplifies the ministry of the new church down to the overall mission of the Church, which is to make disciples. Keeping this mission in the front of your mind, regardless of how you frame it for your church, will keep you on track as you trudge through the difficult phase of church planning and planting.
As somebody who is doing this right now, I can't think of a better book to give to church planters than Aubrey Malphurs' The Nuts and Bolts of Church Planting. It's simple, practical, readable, and comes with an abundance of support material (16 appendices!) to help guide you through this difficult process. If you're thinking about planting a church, read this book first. If you're on a church plant team, get it for your pastor! The more time you spend with this book, the more time you will save and the more frustration you will avoid in the church planting process.